history Back on March 5, 1997, I started this website. I felt there was a serious lack of photos on the web that showcased how extraordinary Kelly Slater is as a person and surfer. Being a long-time fan of Kelly's for many years now, I've have quite a collection of magazine clippings and been lucky enough to have met him several times. I decided to share my collection of Kelly images to fellow fans around the world and this website was born.

Back in 2003, I started up a fanlisting for Kelly Slater. I know I'm not the only fan out there and the list quickly grew and continues with new members joining every day. This website has gone through many changes from webhosts to layouts, but the goal is still the same and I continue to add to the gallery new images as often as I can.

This website made using Adobe Photoshop, Adobe ImageReady, and Allaire Homesite.

Previous layout: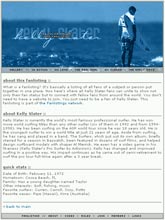 « back to main

© 1997-2021, pop-trash. All rights reserved.